Kwazar Mercury Pro + 1 Liter Spray Bottle (33 oz)
Why Buy This Product?
Professional quality sprayer bottle
Dual-action sprayer mechanism
Mists product on every trigger pull AND release!
Large 1L (33 oz) bottle capacity
Refillable and recyclable
Level viewing window for convenient quantity check
Durable plastic materials resist chemicals and UV sunlight
Opaque bottle protects product from solar degradation
Viton sprayer seals resist corrosive chemicals for versatile usage
How It Works
The Kwazar Mercury Pro Spray Bottle is the professional's secret to continuous spray action with half the effort. Unlike traditional sprayer heads, Kwazar sprayers mist product on the pull AND release of the handle. This dual-action sprayer mechanism is perfect for saturating large areas with detailing solutions quickly and easy. A fine atomizer tip pressurizes every pump of product to create a fine mist for maximum surface area coverage with every ounce sprayed. Mist plenty of clay bar lubricant for scratch-free decontamination over painted panels and clear glass windows in seconds. Pre-treat filthy carpets with stain busters and all-purpose cleaners for intense scrubbing and extraction without cramping your hand. Mist waterless car wash products over entire vehicles without the need for more expensive pump action and electronic sprayer systems. The uses for the Kwazar Mercury Sprayer are endless. Chemical-resistant Viton seals stand up to all kinds of caustic cleaners, degreasers, and disinfectants. Take the Kwazar Mercury Sprayer inside the home, office, or workshop to clean up, degrease, and sanitize any kind of spill, mess, or accident with the perfect cleaner for the job. Enjoy the convenience, efficiency, and fine mist of the Kwazar Mercury Pro Spray Bottle for any detailing and cleaning task on any jobsite.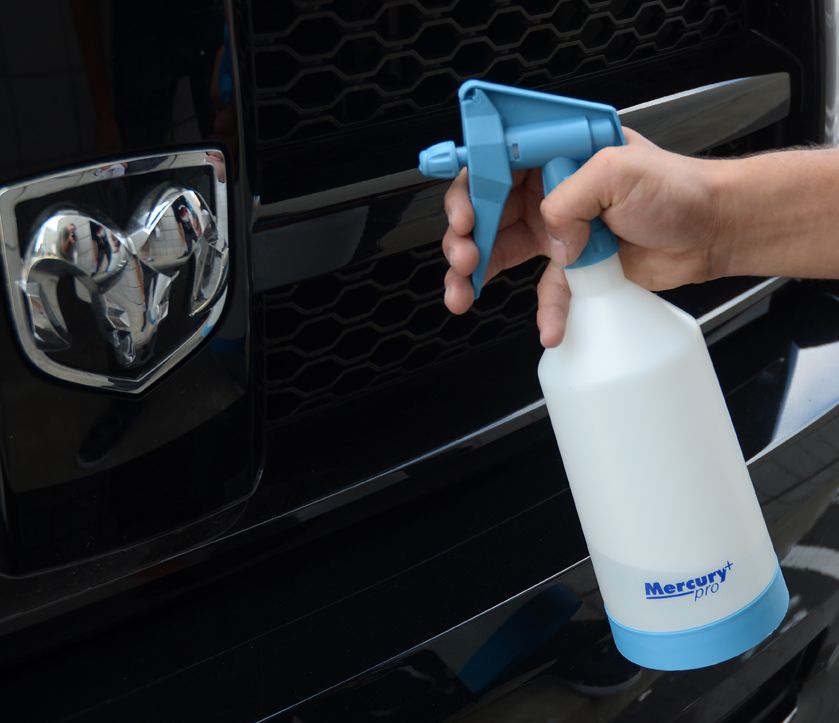 Professional Tools For Professional Results
The difference between professionals and enthusiasts is exchanging time for money. A few minutes saved by a professional tool adds up to a lifetime of extra work and extra leisure. The Kwazar Mercury Pro Spray Bottle delivers twice the product with half the effort of normal sprayer bottles. While traditional sprayers only mist on the pull of the trigger, the Kwazar Mercury Pro mists on the pull and release of the trigger. Repeatedly squeeze the trigger to create a constant misty stream of any quick detail spray, clay bar lubricant, or waterless car wash product over any vehicle. The adjustable tip nozzle sprays everything from an ultrafine mist to a focused jet of product. Tune the sprayer tip and mist the perfect coating of any detailing product to get perfect results on any part of any vehicle, anywhere, any time. Everything is possible with the Kwazar Mercury Sprayer Bottle.
Chemical Resistant Durability
Industrial chemicals and professional detailing products are not always chemically neutral. Some products have to be slightly acidic or basic to deliver desired results. Kwazar Mercury Pro Spray Bottles use Viton seals in place of traditional rubber O-rings and gaskets. Viton is prized for its superior resistance to stronger acids and bases. It sees applications all throughout fuel, oil, and blending systems in the automotive, aerospace, and production industries. All the vital seals and O-rings in the Kwazar Mercury Sprayer are made with Viton for superior resistance to the heavy duty detailing chemicals and traditional products professionals use every day. Fill the Kwazar Mercury Pro Spray Bottle with any Chemical Guys wheel cleaner, degreaser, window cleaner, APC, detail spray, air freshener, or waterless wash solution with no fear of damage or leaking from the bottle or sprayer head. Take the Kwazar Mercury Pro Spray Bottle on any detailing job for superior performance and proven reliability with any detailing product.
Fully-Adjustable For Every Job
Another trait professionals value in the tools they choose is versatility. If one product can do many jobs well, it is usually a better investment than one that cannot. The Kwazar Mercury Pro Sprayer Bottle is fully-adjustable and can be set up for type of detailing, cleaning, or sanitation job in, around, and outside the car, home, office, and garden. Spray a fine mist of waterless car wash or quick detail spray for maximum coverage with minimum product. Focus the sprayer beam to clean inaccessible wheel and engine bay parts, or water hard to reach potted plants up on a shelf. The possibilities are practically endless! Don't change your detailing techniques and jobs to suit your tools: choose the tools that perform where and how you need them. Choose the Kwazar Mercury Pro Spray Bottle and take on any detailing job anywhere, any time.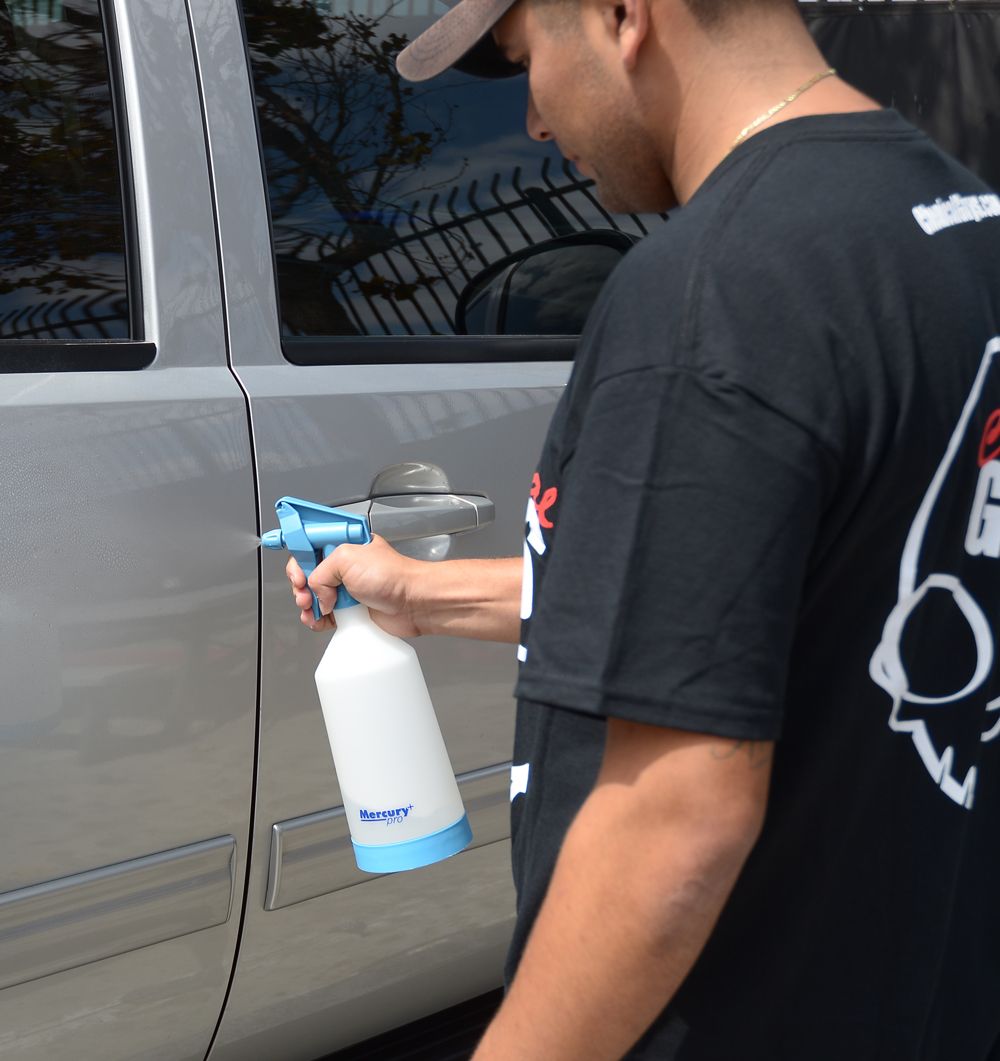 How To Use:


Unscrew sprayer head and fill the bottle with your preferred detailing cleaner, degreaser, or detail spray.
Reattach sprayer head and shake bottle to mix solution.
Squeeze trigger and mist product over the work area.
Adjust the sprayer pattern from stream to mist as needed.