VNB-94BD - Metro Vac N'Blo Portable Vacuum & Power Blower (4 HP)
What's Included?
Vacuum & Power Blower
Flexible 6 ft. Hose
Carpet/Floor Tool
2 – 20 inch extension wands
"Pik-All" nozzle
Crevice tool
Dusting Brush
Inflater Adapter
4-Piece Micro Cleaning Tool Kit
2 Disposable Bags
New Turbo Hand Tool
So Fast Premium Air Freshener & Odor Eliminator, Green Apple Scent (16 oz)
Why Buy This Product?
Portable size Vac 'N, Blo unit
Deliberately Made Better in the USA
4.0 peak horsepower dual-power unit
Full assortment of professional attachments, including Carpet & Floor Tool, Pik-All Nozzle, Crevice Tool, Dusting Brush, Blower Nozzle, 4 Piece Micro Detailing Kit, 2 20'' extension wands, and Inflater Adapter
4 wheel dolly
12 ft. grounded power cord
How It Works
The detailer's favorite Classic Portable Metro Vac 'N, Blo Vacuum & Blower combines a strong vacuum with a powerful blower in a compact package. Chemical Guys proudly sources tools and supplies from other American companies whenever possible. The Metropolitan Vacuum Cleaner Company is a family-owned American company that has built high quality vacuums and blowers for over 75 years. By listening to customer feedback and analyzing industry trends, Metro Vac constantly innovates to stay current in the market. The Classic Portable Vac 'N, Blo provides exceptional power and versatility in an all-steel, American-made machine. As a vacuum, the incredible suction power cleans any car interior in less time. The compact unit features a convenient carrying handle, and 4 wheel dolly to follow the user around any vehicle. The unit ships with a 6 foot detailing vacuum hose, and full assortment of professional cleaning attachments to fully detail any vehicle. As a blower, the Vac 'N, Blo clears water from inaccessible areas of your car and blasts dust from AC vents and shift boots. The Classic Portable Vac 'N, Blo from Metro Vac is the first choice of mobile professional detailers and car enthusiasts worldwide!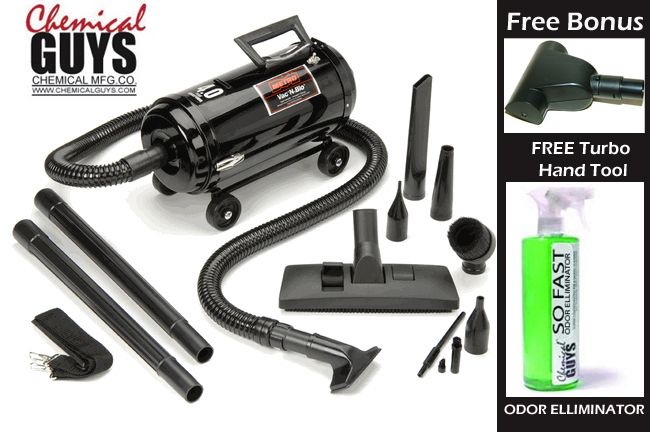 Versatile Performance That Follows You Around The Car
The Metropolitan Vacuum Company works closely with professional auto detailers, classic car restorers, and industry specialists to constantly refine, innovate, and create the best vacuums. The all-new Classic Portable Vac 'N, Blo combines high grade running parts with sturdy construction, clever accessories, and functional design sensibility to make a durable and portable vacuum cleaner and blower. The powerful electric motor peaks at 4.0 horsepower, turning the twin-fan industrial quality mechanism to produce even and sustained vacuum throughout its operation. The Classic Portable Vac 'N, Blo features a durable wheel dolly for professionals who need the unit to roll around the car as they move from seat to seat. The long 6-foot hose reaches in and around any area of the vehicle for quick detailing work. Fit into any nook, cranny, or crevice with the wide array of detailing nozzles, tools, and accessories. Metro makes vacuums that work as hard as you do. Choose the Classic Portable Metro Vac 'N, Blo for every mobile detailing need.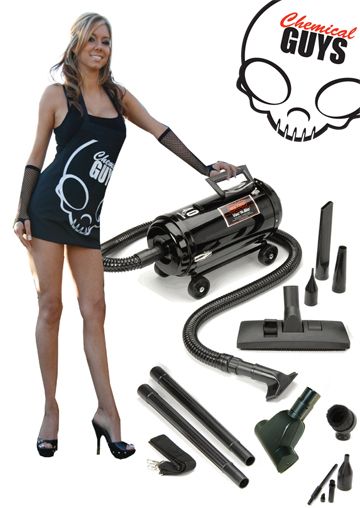 The Right Tool For The Job
The Classic Portable Metro Vac 'N, Blo doesn't just vacuum, it also functions as a powerful blower. The worst part of every detail is pulling away for a drive and arriving at your destination with dry water spot trails dripping from every door mirror, tail light, door jamb, and emblem. With the Classic Portable Metro Vac 'N, Blo, every detailer can easily push standing water from hard to reach nooks and crannies after every car wash. Simply blow any standing water out from mirrors, trim, bumpers, emblems, lug nuts, grilles, grates, and door jambs while drying the exterior of the car. For extra-stubborn interior messes, blow out dust, dirt, and debris from underneath seats, vents, dashboards, cubbies, compartments, and cupholders. Open up the engine bay and blow out water, cleaners, or dressings to ensure 100% coverage and cleanliness during an engine bay detail. Attach the blower nozzle and quickly fill up air beds, camping pads, pool floaters, or balloons in seconds. The possibilities are endless. Choose the Classic Portable Metro Vac 'N, Blo for professional and thorough cleaning in and around any vehicle.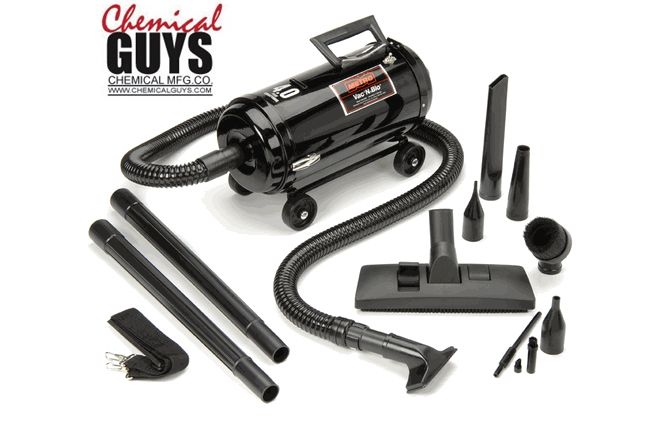 Deliberately Made Better In The USA
"Made In America" still means quality and craftsmanship. Metro Vac products are all made in the United States, like they always have been. The family-owned business has done things their way for over 75 years, and they're not quitting any time soon. Metro Vac manufactures small runs of machines to maintain high quality control and consistent delivery of perfect results. Metro Vac is the standard for vacuums and blowers. Detailers, enthusiasts, and professional auto reconditioners prefer Metro Vac products to any other brand on the market. Pick up a Metro Vac, and you'll immediately feel the quality and rugged durability of every unit. Metro Vac: Deliberately made better in the USA.